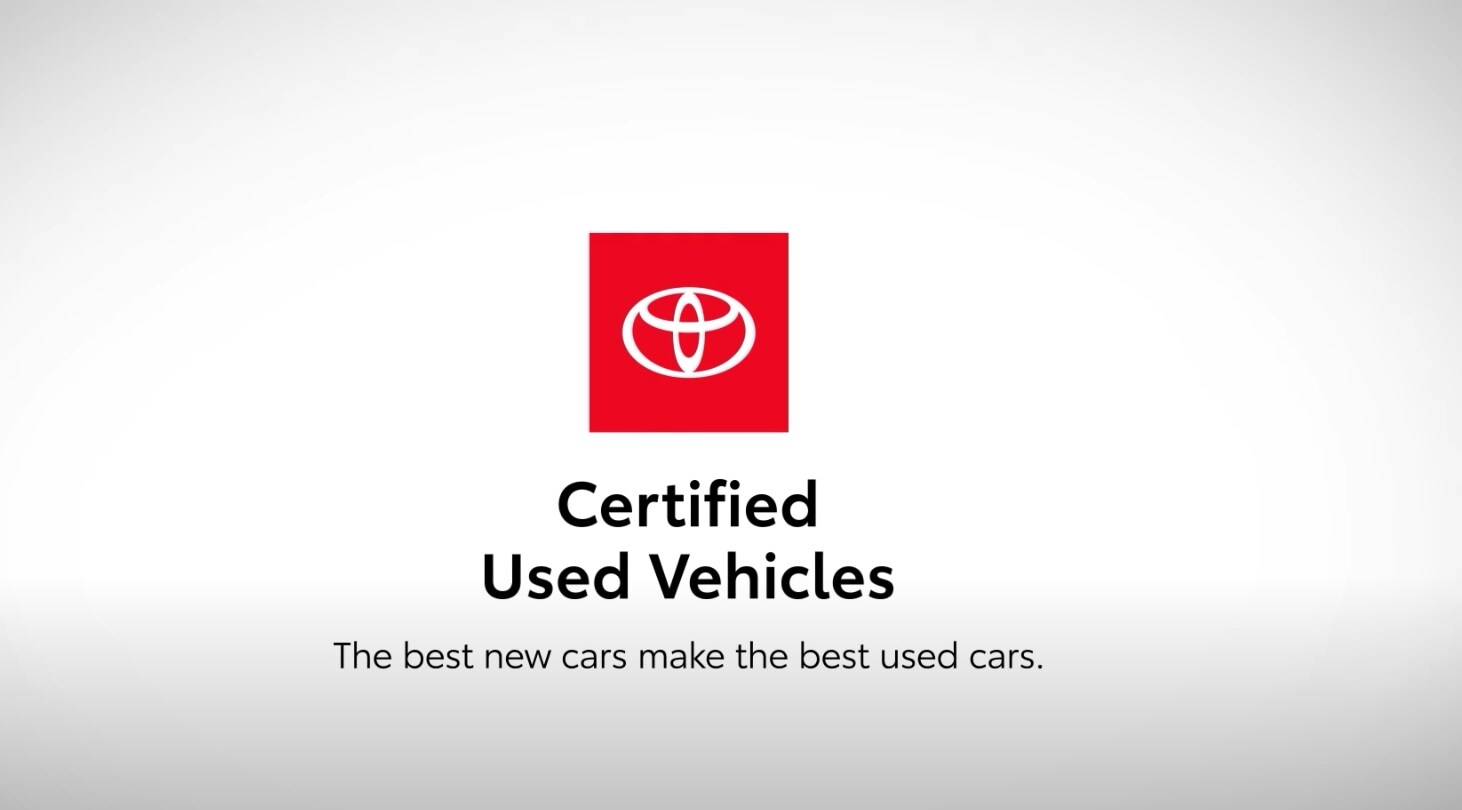 When you are in the market for your next nearly-new vehicle, consider a Toyota Certified Pre-Owned Vehicle. The Toyota Certified program is a curation of the best used Toyota vehicles on the market. Each certified Toyota car, truck or SUV must first pass rigorous inspection, and only those Toyota models that pass the inspection can have the Toyota Certified Used Vehicles logo attached to it.
According to Toyota:
A Toyota Certified Used Vehicle (TCUV) must be a current model year Toyota, up to and including six year old models, and have 85,000 miles or less on the odometer. Each Toyota dealer is required to order a full CARFAX® Vehicle History Report™ with results showing NO ineligible requirements. Then, each vehicle is subject to an intensive 160-point minimum Quality Assurance Inspection, which includes mechanical, detailing, and appearance standards. These strict standards ensure that only the best of the best vehicles receive the Toyota Certified Used Vehicle Seal of Approval.
Are Certified Toyotas Better than Standard Used Vehicles?
So what makes a certified Toyota more attractive to buyers than a standard used car? For starters, Certified Pre-Owned Toyota vehicles are thoroughly checked inside and out. Toyota uses a 160-point quality assurance examination to ensure that only the best low-mileage vehicles are selected, and that's why certified Toyotas are available with impressive warranty coverage.
The quality of your used vehicle is protected by three criteria:
Toyota Certified Warranty. Certified Toyotas are backed by a 12-month, 12,000-mile limited warranty, as well as a 7-year, 100,000-mile Powertrain warranty. Toyota provides you with protections. Plus, the certified program warranty includes one year of Roadside Assistance. This warranty is honored at more than 1,400 Toyota dealerships in North America.
Newer Models, Low-Mileage Guarantee. Only a small percentage of Toyota vehicles are eligible for the certified program. It starts by narrowing the vehicles down by mileage. A vehicle must be six years old or newer and have less than 85,000 miles. Plus, all certified vehicles are recondition inside and out to Toyota quality standards.
CARFAX Reviews. Any Toyota vehicle that is being considered for certification must pass a CARFAX vehicle history report review. This contains vital data about the vehicle, if it's been serviced regularly, if the title is clean, and the vehicle's accident history.
Financial Benefits of Toyota's Certified Program
Toyota Certified Program is about much more than just the exacting quality standards. The program opens up customers a lot of significant benefits. These financial benefits include:

Special Toyota Financing Rates Available: For qualified buyers, Toyota provides the same new car financing rates to certified customers. That means Toyota-backed low APRs are available, as well as special offers and the most attractive terms. If you finance a standard used vehicle through a dealership, chances are you will have to find market-rate financing. Toyota provides specialized rates to benefit buyers.

Trade-Ins Welcomed: Have a trade-in? Not a problem. A trade-in vehicle can be used towards the value of your certified purchase. When buying a used vehicle through a dealership, that's likely not an option.

Increase Resale Value: The warranty coverage provided in the purchase price of your Certified Toyota is transferable. That means if you go to sell your vehicle, while the terms are active, you can include that as a benefit in your sale price. Even more good news, Toyota vehicles already have one of the highest resale values of any brand in North America.

Avoiding the DMV: Much of the paperwork that's required to purchase a certified vehicle is taken care of in-house, just like when you buy a new vehicle. When you purchase from a private seller, you're required to secure the title and register at the DMV. In other words, purchasing a certified used vehicle saves you time.
Shop Our Certified Pre-Owned Inventory
Thinking that a certified pre-owned Toyota might be right for you? Check out the pre-owned inventory available at our Houston and Katy Toyota dealerships! View dealerships' hours and directions.